When St. Patrick's day meets nutrition month…
Why not try a new recipe that is naturally green, easy to make, and kid friendly!
Did you know that when kids are involved in the selection, preparation, and cooking process they are often more likely to have an interest in eating the finished product? This is a great way to expose little ones to new foods or new ways of eating foods they have already deemed "safe".
For this recipe, you can have your child choose and peel bananas, portion dry ingredients, or rip up spinach leaves. You can even let them add ingredients to the blender, press the buttons, and help with scooping batter into the cups. Make this a fun bonding and learning experience!
For more tips on getting kids into the kitchen see here: https://www.unlockfood.ca/en/Articles/Child-Toddler-Nutrition/Cooking-with-Kids.aspx
I previously called this recipe "Hulk muffins" but today, let's go with something a little more festive!
Lucky Leprechaun Muffins AKA Hulk Muffins AKA Spinach Banana Blender Muffins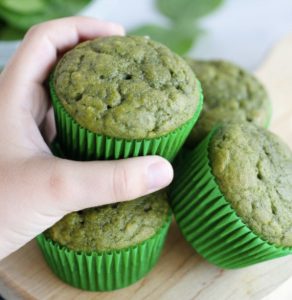 Ingredients (Makes about 16)
2 cups oats
¼ cup ground flaxseed
2 tsp baking powder
½ tsp baking soda
½ tsp salt
1 tsp ground cinnamon
¼  cup maple syrup or other sweetener
½ cup milk
2 cups packed spinach leaves
¼ cup applesauce
2 extra-ripe large bananas
2 eggs
1 tsp vanilla
Instructions
Preheat oven to 375. Grease or line a muffin tin.
Put oats in a high powered blender or food processor and blend until the oats achieve the texture of flour. Transfer to a medium mixing bowl.
Add the rest of the dry ingredients to the oat flour and set aside.
Add milk and spinach to the blender and blend until smooth.
Next, add bananas and applesauce and blend until smooth.
Add vanilla and eggs and blend until just combined.
Pour wet ingredients in with dry and stir to combine (making sure there are no lumps).
Fill each well in your muffin tin with ¼-⅓  cup of batter. Bake for 20-25 minutes or until toothpick comes out clean and the top springs back when touched.
These are great freezer muffins to pull out as needed for a quick snack on the go!
Recipe adapted from: https://joyfoodsunshine.com/